Equipment Division
In 2001 THERMO acquired CTS technology, a national manufacturer with technology for heat treatment furnaces in general, with other technologies incorporated and for over 35 years in the national and international market for industrial furnaces.
With over 1300 pieces of equipment designed and built.
Among designed and produced equipment, 60 units are continuous installations for the treatment of the fasteners and engine plates industry.
Equipment developed with high technology for heat and surface treatment.
THERMO analyzes the process and what the customer needs, evaluates and designs the ideal equipment for the work to be performed.
Furnace Division
THERMO, maintain technological partnerships with European associates, being the main oven companies in the world for the most diverse uses.
Aluminum sector:
IFI INSERTEC GROUP, a company based in Basauri in Spain with branches in Mexico, Italy, China and Brazil for over 8 years manufacturing Local, operating in 25 countries, maintaining the technology of Japan from SANKEN-SANGYO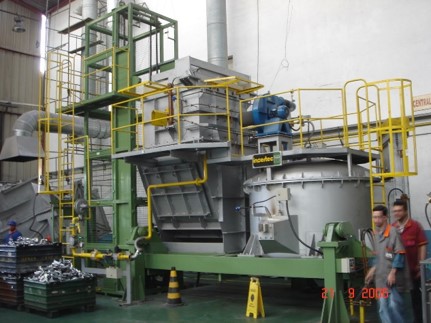 Induction Sector:
IFETURA dpt ACES, company located in Brechaumont in France, a major European market manufacturer for induction heaters, operating in the world market, is the main supplier of Peugeot-Citroen - France in this segment.
In the heat treatment segment, in general, we have the CTS technology dedicated to over 50 years.
Our company designs industrial and greenhouse ovens, gas and electric, continuous and intermittent, ACES induction heaters, ACES induction melting furnaces, washing machines and auxiliary equipment, including the supervisory system, heat treatment and melting furnaces.
Furnaces for the IFI INSERTEC aluminum industry, forgings, automotive industry, electrical industry, heavy industry and others.
"TREATING" with THERMO, you "TREAT" with the best technology and services.
Main customers:
Industrial Rex Ltda
A. Friedberg
Alujet Ind. e Com. Ltda.
Alutech Alumínio Tecnologia Ltda.
Bastien Ind. Metalúrgica Ltda.
Belenus do Brasil Ltda
Bollhoff Service Center
Neumayer -Tekfor
Metalac -Textron
Bollhoff Rivnut ( USA )
Temsa ( Spain )
Continental Parafusos Ltda.
FIBAM Cia Ind Ltda
Hércules Motores Elétricos Ltda.
Ind. Gerais de Parafusos Ingepal Ltda.
Italspeed Automotive Ltda.
Metalúrgica Fey S/A
Mult-Tempera Tratamento Térmico Ltda.
Met Hassmann S.A
Our references: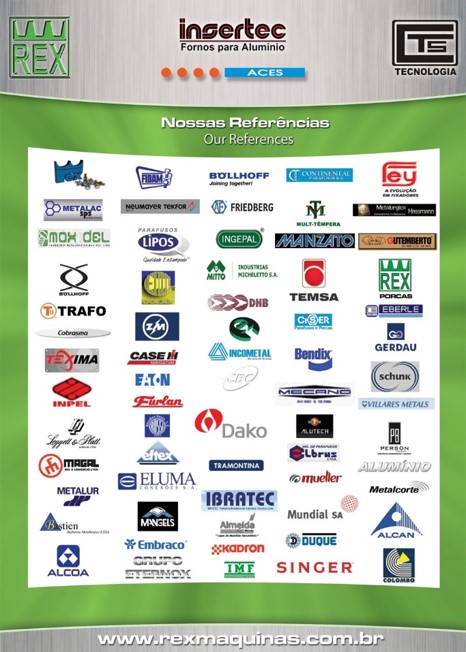 Our Partnerships: